John Brown, the abolitionist from VA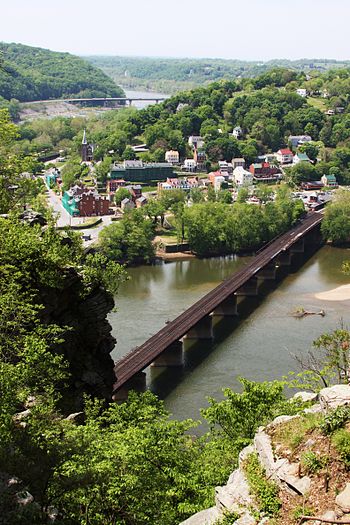 John brown was an abolitionist that supported the movement to overthrow slavery. He is best known for his actions in Harpers Ferry, Virginia( today West Virginia). This place in the west of our first slave state was chosen to start his rebellion by free slaves.  His plan was to arm them to fight slaveholders back. His first history of conflict in the name of abolitionists took place during the crisis known as "Bleeding Kansas".
On the night of October 16,1859, Brown and his several followers took control of the arsenal at Harper's Ferry located along the Shenandoah and Potomac Rivers. He announced, "I have possession now of the United States armory, and if the citizens interfere with me I must only burn the town and have blood." However, Brown soon faced the U.S. Marines who rushed to Harpers Ferry from Washington D.C., under the command of colonel Robert E. Lee. Just in the time of 36 hours, John Brown was captured and quickly sentenced to death for treason.
He was executed on December 2, 1859 and he had a prophetic note that he handed to the jailer: "I, John Brown, am now quiet certain that the crimes of this guilty land will never be purged away but with blood. I had as I now think vainly flattered myself that without very much bloodshed it might be done." In a stunning way that continues to inspire others to act for justice John Brown became a hero.  When people step up for truth in the face of death they do not go unrecognized.  Many Northern abolitionists now had more strengthened feelings about fighting slavery while the south become more defensive.
http://www.civilwar.org/150th-anniversary/john-browns-harpers-ferry.html?referrer=https://www.google.com/
http://www.civilwaronthewesternborder.org/essay/bleeding-kansas-kansas-nebraska-act-harpers-ferry
"I believe that to have interfered as I have done, as I have always freely admitted I have done on behalf of [God's] despised poor, I did no wrong, but right. Now if it is deemed necessary that I should forfeit my life for the furtherance of the ends of justice and mingle my blood…with the blood of millions in this slave country whose rights are disregarded by wicked, cruel and unjust enactments, I say, let it be done!"  – These were Brown's last words to the court in 1859.