Kanye Meets Trump
Kanye West has been all over the news for the past few years because of celebrity drama for his angry outbursts. Last month he was admitted into the hospital to seek mental treatment, so he had to cancel the rest of his world tour leaving millions of fans angry and confused. With all of his ranting about the environment, fame, and declaring that he would run for president in 2020; the last thing anybody would've thought was that he would meet peacefully with Trump.
"We have been friends for a long time" said president-elect Trump following his statement that West is "a good man." His fans have reacted with anger at his statement "I told y'all I didn't vote, right? But if I would've voted, I would've voted for Trump."
It's a bit confusing for a lot of people considering he had met with presidential candidate Clinton with his wife, Kim Kardashian-West, at a fundraising event for her campaign. The hip hop community has also reacted with shock and anger at his sudden support for Trump because they feel like Trump is a big threat to minority groups.
To read more about this just follow the link http://www.cnn.com/2016/12/13/politics/kanye-west-donald-trump-trump-tower/index.html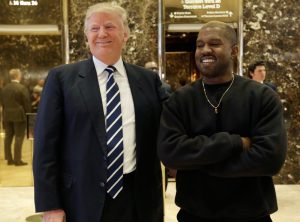 I am honestly not surprised that Kanye West is a Trump supporter because they actually have a lot in common. For example, they both have a huuuuge ego, they both are married to women who have been shamed for posing nude, they are both big celebrities, and they both have quite an issue with their anger. West is full of surprises however, I think the only reason why it is such a shock that he is pro- Trump is that his wife is pro-Clinton. He hadn't really talked about the presidential election and which side he was on. Everyone just assumed that he was Pro-Clinton because of his race and because his wife declared she supported Clinton.
I honestly think the best solution to this drama is just to let the man be, he finally got professional help for his mental issues. He's a lot more calm and collected than he was a few weeks ago, and he's happy. Not everyone has the same mind as everyone else and people need to be more accepting.