Centreville resident Lauren Kirby has given $13,000 to students at Mountain View High School, $1,000 at a time for the last six and half years.  Each February and June, when Mountain View holds their bi-annual graduation, Kirby surprises one lucky senior with a check.  At the Graduating Senior Luncheon, she draws a name from a hat.
"It's intended to recognize their graduation achievement and help them enroll in further education, pay a debt, or get into a car or apartment," said Kirby.   "Giving two financial gifts each year to Mountain View High School seniors just seems like a natural way to say, 'thank you,' for accepting and graduating my two sons. I appreciate the opportunity Mountain View offers students since I probably would have benefited from a school like Mountain View myself, if such a school existed at the time," she said.
"This financial award can give the student a jumpstart on the next leg of their life's journey," said Kirby, "Mountain View was an obvious choice since the seed changes they make in the lives of young people turns their lives around and they will never be the same."
The gift is channeled through the Mountain View High School Foundation, a 501(c)(3).  Chairman of the Foundation, Charles Woodruff said,  "It is refreshing to see how generous and caring people can be when helping others. The money donated to the Mountain View High School Foundation goes to deserving students. In most cases the donor does not know the student, but they all have the same goal in mind—to help a young person get started in life. Lauren Kirby is a perfect example of this type of donor."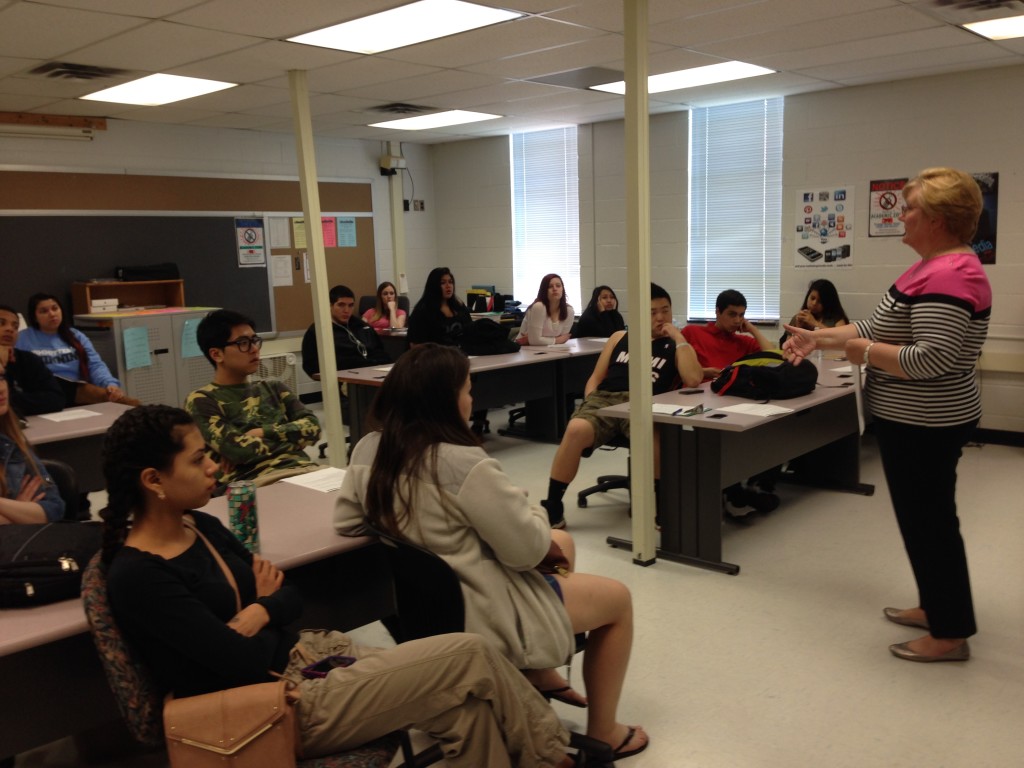 Kirby doesn't stop at giving money.  She holds resume workshops with the students from Mountain View HS.  "I've always enjoyed a good resume," said Kirby.  Over the years, she has provided resume writing workshops to businesses in the area.
Mountain View High School Principal Dave Jagels said, "Lauren Kirby is a great American. She supports education with deed and dollar and should be held up to the community as a leader and humanitarian."
As Kirby put it, "I got to a point in life that I realized I have enough.  Then you come into contact with people who need more. As long as I've been blessed to have, it doesn't hurt to help people who haven't."
Mountain View High School Foundation is a not-for-profit 501(c)(3) based in Centreville, Virginia.  The Foundation's mission is to provide grants and scholarships to graduating students.  Most of these scholarships are between $1,000 and $2,500 and help students attend college, pay for books or start careers.  100% of donations flow through to student grant recipients.  For more information contact Foundation Manager, Sharon.Debragga.
Mountain View High School is a public alternative high school in Centreville, Virginia.  Mountain View offers programs for students who require a nontraditional educational setting.  The school is accredited through the Southern Association of Colleges and Schools as a special purpose high school in the Commonwealth of Virginia. The school's student population consists of minors and adults, including students who may be pregnant or parenting, students for whom English is a second language, students who are returning to school after having had their education interrupted by life events, students who wish to accelerate their high school education and students who have been administratively placed. The school is not intended for students with severe disciplinary problems.