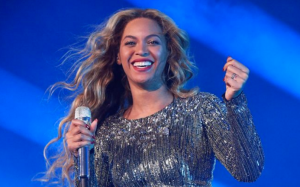 Beyonce is known as one of the most talented singers in our generation, and she has done it again. Lemonade is Beyonce's most ambitious project to date. It gives out the experiences of black women. During one of tracks "Don't Hurt Yourself" we hear Malcolm X saying,"The most disrespected person in america is the black woman" from a speech in 1962. Malcolm X's words are introducing a song about honesty: A "personal" site of disrespect. And yet goes so far beyond that, Beyoncé is using the personal to bring people full attention to disrespected targeting at black women. This album also has experiences of stories of  heartbroken lovers. Her story moves from the emptiness of betrayal to the fullness of  black sisterhood. Lemonade is a true blend of bitter and sweet,  and indeed skillfully. I feel like everyone when they have time should really take the time to listen to her album.
http://www.billboard.com/articles/news/7348365/beyonce-lemonade-freedom-dress-maria-lucia-hohan-intervie
Throughout history, beauty in a person has been defined as someone with the physical appearance that was pleasant to that viewer's eye. I feel beauty should be looked upon with multiple views the different cultures and areas, The more a average a persons' features are to society the more attractive that person appears to be. And it shouldn't be like that people also believe that the color of your skin matters. I have a lot of friends that aren't of the same race as me and I don't like them less for it. I feel that everyone is created equal. No matter what color your skin is, what religion you practice, or what you have and don't have. You are worth as much as the next person. And everyone's important to at least one person in this world. Beyonce's work for empowering women is something I think is very inspirational.
http://genius.com/Beyonce-freedom-lyrics