Limits Needed on Police Tactics?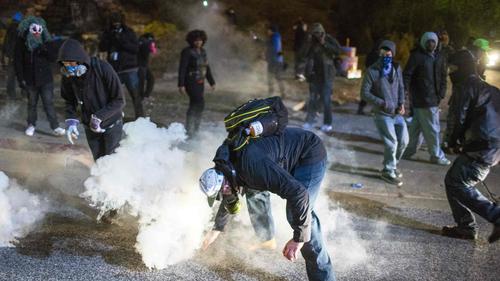 A federal judge has imposed some limits on what actions police can take during protests in Missouri, ruling that officers must give protestors time to disperse before deploying tear gas and other chemical agents. U.S. District Judge Carol Jackson late Thursday granted a temporary restraining order on behalf of demonstrators protesting the Aug. 9 shooting death of 18-year-old Michael Brown by Ferguson police officer Darren Wilson. Brown's death led to weeks of protests and some looting in the St. Louis area.Police testified Thursday that they did what was necessary during the unruly protests which involved children too. But protesters told the judge that they were subjected to tear gas with virtually no warning.
First of all, the protesters who were foolish enough to bring children to an event where they had to know would not be peaceful those parents should be charged with endangering the welfare of a child. Second, the police DID issue warnings before tossing the tear gas canisters.Both the police and the protesters are at fault here because they should be aware that children are around too. When it comes to the protestors, it's liking dealing with a bunch of 3 year olds, except 3 years don't throw rocks and bottles, set fires to buildings and police cars, block highways, walk off their jobs and schools and expect the rest of the community to respect them for their behavior. Alot of questions are asked, what if some protesters are hearing impaired? Will the verbal warning be enough? We should look at both sides when it comes to this issue.
http://news.yahoo.com/judge-puts-limits-tear-gas-missouri-racial-protests-042215389.html