March Series
March (a graphic novel trilogy) by John Lewis, Andrew Aydin, and Nate Powell is a first-hand account of John Lewis' lifelong struggle for civil and human rights, meditating in the modern age on the distance traveled since the days of Jim Crow and segregation. Rooted in Lewis' personal story, it also reflects on the highs and lows of the broader civil rights movement.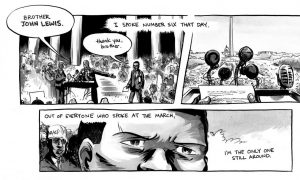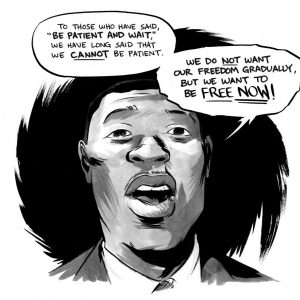 Congressman John Lewis is an American icon, one of the key figures of the civil rights movement. His commitment to justice and nonviolence has taken him from an Alabama sharecropper's farm to the halls of Congress, from a segregated schoolroom to the 1963 March on Washington, and from receiving beatings from state troopers to receiving the Medal of Freedom from the first African-American president.
March: The Series shows us the Civil Rights movement through the eyes of people who were there to experience it first-hand. It also shows us the efforts of some people who may not be very known or even be with us anymore. March shows us not only the small triumphs that occurred during the movement but also all the hardships that these people faced in their everyday lives. This series is mainly told through the eyes of the persecuted but their are accounts as well from the opposing side.
While this series is a graphic novel that doesn't take away from the validity of its contents or the impact that these stories hold. I think this method of informing readers on what happened in history can be very powerful. With common novels the readers have to create images, to the best of their abilities, of what they're reading could look like. Graphic novel don't leave much to the imagination and are a much more direct and straight-forward way to get a point across.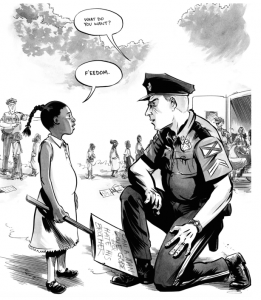 I personally learned a lot from these three books. I don't think history should be left marked as common sense and that it is important to realize that there is always more to learn. Reading these books only took me a week and they was a lot easier to read than novels. To those skeptical towards graphic novels and how they could compare to picture-less novels, I say don't knock it til you try it. You might end up pleasantly surprised by the end. With that being said, I highly recommend this series to anyone looking for a break from heavily worded novels or even those looking to expand their reading horizons. Also, to anyone looking to learn about history in a different, easier way.
Leave a Comment