No More Silence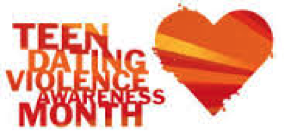 February is Teen Dating Violence Awareness Month.  Every year, 1.5 million high school students around the world experience emotional and physical abuse from a relationship. Most parents and teachers never talk to their children about domestic or dating violence.  There is information and support to victims by service providers and communities that help bring awareness to decrease dating violence among young people. People can make an important contribution in reversing the effects of teen violence by raising awareness about the issue.  Speak up about abuse when you see it and organize your community messengers to make a difference.
Learn About Teen Dating Violence   
Teen dating violence (TDV) is a pattern of abuse or threat of abuse against dating partners.  It occurs in different forms, including verbal, emotional, physical, sexual and digital. TDV unfortunately occurs everywhere but often goes unnoticed.
Although the dynamics of TDV are similar to adult domestic violence, the forms and experience of TDV, as well as the challenges in seeking and providing services, make the problem of TDV unique.
The National Resource Center on Domestic Violence has developed an Online Special Collection: Preventing and Responding to Teen Dating Violence. Recently updated, this Special Collection shows collaborative and multi level approaches to the prevention of and response to teen dating violence.
For the past ten years the Break the Cycle and the Love Is Not Abuse Campaigns have been hosting  the It's Time To Talk Day. This awareness campaign aims to generate conversations about healthy relationships and prevent teen dating violence and abuse. This year, the NO MORE campaign developed a toolkit titled "How to Start a Conversation: Talking About Dating and Healthy Relationships Step-by-Step".
The National Resource Center on Domestic Violence (NRCDV) is sponsoring a series of events and opportunities for engagement throughout the month of February for Teen Dating Violence Awareness & Prevention Month 2014.
National Resources
There are many organizations that provide direct services to young people who experience dating violence, as well as information to adults who are concerned about young people. National initiatives and campaigns are also in place to provide training, technical assistance, public awareness, and community programming focused on engaging youth, adults, and community members to address dating violence. For a list of key national organizations. CLICK HERE.

This hotline provides 24-hour national web-based and telephone resources to help teens experiencing dating abuse. Break the Cycle is a national nonprofit organization that provides preventive dating and domestic violence education and outreach to teens and young adults.
OUR SCHOOL COMMUNITY will be spreading AWARENESS on FRIDAY 2/26 throughout the day.  WEAR ORANGE if you can and be willing to TALK ABOUT it with the right people who care.  It's time to stand up for FAMILY, LOVE, RESPECT.