English
What are sources of POWER and AUTHORITY?
What are examples of RIGHTS and RESPONSIBILITY?
On what levels of citizenship do you see the SOCIAL CONTRACT?
Spanish
¿Cuáles son las fuentes de PODER y AUTORIDAD?
¿Cuáles son ejemplos de DERECHOS y RESPONSABILIDAD?
¿En qué niveles de ciudadanía ves el CONTRATO SOCIAL?
French
Quelles sont les sources de POUVOIR et d'AUTORITÉ ?
Quels sont des exemples de DROITS et de RESPONSABILITÉ ?
À quels niveaux de citoyenneté voyez-vous le CONTRAT SOCIAL ?
The Modern Social Contract theory, proposed and promoted in a variety of ways by the English and French Enlightenment philosophers; Thomas Hobbes, John Locke, Jean Jacques Rousseau, and Baron de Montesquieu shaped the evolution of modern democracy over the course of 300 years.  Standing on a foundation of thought from the limited monarchy of the Magna Carta and the rise of the individual through Renaissance Humanism; these philosophers were some influential teachers of our American founding fathers.  The ratification of the United States Constitution occurred at a time when democratic thinking was dangerous; the French revolution threatened the life of the Divine Right Monarchies in Europe just as it provoked the first successful slave revolt of the Americas in the French Carribean and the Spanish empires collapse in Latin America.
What are the reasons for searching for Peace, Justice and Strong Institutions?
The purpose of Goal 16 is to bring in peace involving different societies and people, to restore justice once told and improve treatment towards others.  Historically, people have secured peace with strong instituions and lost the peace with injustices.  The History of the United States cannot be told without acknowledging the hypocricy of saying one thing and doing another.  Fortunately, our Constitution is a guide towards justice, however the instituion of slavery existed as a cancer of injustice and showed the weaknesses of our human nature as we compete for power. Finding peace through alliances and treaties has sometimes been temporary because the instituions were weak or the treaty was un just or both.   For example, the Treaty of Versailles brought an end to World War I but The League of Nations was weak and the punishments for Central powers such as Gernmany were unjust.  It has been said "If you want peace, then work for justice."  
Some examples of the challenge to balance Peace Justice and Strong Institutions in our world today.
El Salvador President Nayib Bukele nominated for re-election despite constitutional questions  link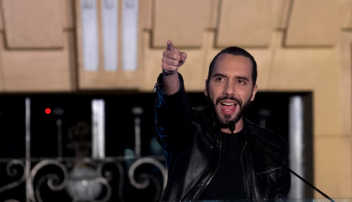 President Nayib Bukele was officially nominated by his New Ideas party Sunday to run for reelection next year, brushing aside objections from legal experts and opposition figures who say El Salvador's constitution prohibits his candidacy. It was also announced that current Vice President Felix Ulloa would run for reelection in the ballot scheduled for Feb. 4, 2024.  Nayib Bukele should be president of El Salvador again because he makes a change for the country and he always puts strong authority and power. And in my opinion, Vice President Felix Ulloa should not be a candidate for the presidency because he was not a good president for El Salvador.  – EM
More than 40 women killed in Honduran prison riot
Honduran President Xiomara Castro blames violence on criminal groups, which wield significant power in prison system.
A grisly riot at a women's prison in Honduras on Tuesday has left at least 41 women dead in an outburst of violence that the country's president blamed on "mara" street gangs that often wield broad power inside penitentiaries.
Most victims were burned but there also were reports of inmates shot or stabbed at the prison in Tamara, about 50km (30 miles) northwest of the capital Tegucigalpa, said Yuri Mora, the spokesman for Honduras's national police investigation agency.
My opinion is that there should be more security from the president and there would be less corruption.
What SDG does this relate to?
https://sdgs.un.org/goals/goal16                                                
https://unstats.un.org/sdgs/report/2023/Goal-16/                              
The amount of intentional homicides reached 458,000 in 2021 which hit the highest number in the past two decades. This spike in killings in 2021 could partly be because of COVID or gang-related and sociopolitical violence. Data from 101 countries reveal that 9/10 suspects of intentional homicide were males. In 2022, more than 50% increased in conflict-related citizen deaths, mostly due to the war in Ukraine.