Perspectives on Justice 20 Years After 9/11/01
   On Thursday March 30th Mrs. Earhart 7th period students learned from the experiences of Department of Defense Victim Witness Coordinator, William J. Andreu.
  In his position, he is responsible for arranging all of the details of travel and accommodations for the families of 9/11 victims.  On September 11th 2001 close to 3,000 people were killed in terrorist attacks by the 19 hijackers of 4 commercial passenger jets.  His job is important in the process of healing and justice.  The U.S. Government funds this process seeking to bring some level of personal justice to victims' families who want to see the accused at trial.  Mr. Andreu spoke about how he takes all the victims to the courtroom personally.  In his job he builds a relationship with these families over the course of a week as they attend the hearings at Guantanamo Bay, Cuba. This relationship is important because the victims are feeling heard by the government.  Shared perspectives are important in the process of justice.
As students we recognized the importance of learning through story telling. Mountain View student, Katie Velasco attended the event and says, " I learned more about 9/11 than I ever knew because I had someone with first hand experience who could answer questions and tell stories from personal perspectives. "  One example of these perspectives is that of Captain William Burke Jr who died as a NYC firefighter staying with stranded victims, knowing it would likely cost his life.  One memory shared by William Burke's family was how he was also a lifeguard at the beach.  On one occasion one of the oldest lifeguards alive wanted to pay a visit to the beach one final time as he was in his late 80's and confided to a wheel chair.  William Burke without hesitation took this older man in his arms and gave him one last swim in the ocean.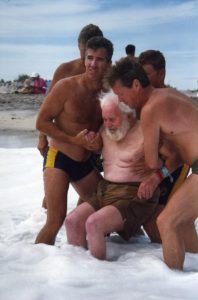 the detainees were all placed in a special prison specially made for them. Mr. Andreu talked about the families stories and experiences. When the trial complete they will get sent back to their home country's to serve their time. Each detainees had their own roll in the attack. There was actually supposed to be 20 hijackers on the plane but one had their visa declined and couldn't get on the flight. Mark Bingham helped fight back against the hijackers and take down on flight 93 but unfortunately no one made it off the plane alive. He was know for making one of the first gay rugby leagues called the Bingham group.
Picture Of William "Billy" Burke
How many people were directly affected by this terrorist attack.
thousands of people were affected by this tragedy and not just Americans. People from other all around the world like Great Britain, Australia, Afghanistan, Canada, and Europe.
How people's skills matter when seeking justice.
it matters because they have to be smart enough to not make any mistakes and to keep there cool. To also help others around them so they can remain calm and to understand what they are going through.
Leave a Comment