Robots Replacing Employees?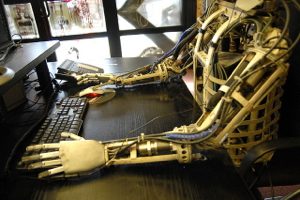 European banking and financial services are gradually brainstorming on how they can save money. One tactic that they discovered on how to save money was to replace 5,800 employees with machines/robots. ING (Dutch lender), will be saving €900 million ($1 billion) every YEAR.
After this replacement has taken action, they will be cutting off more employees up to another 1,200 people. These companies have invested BILLIONS to replace these employees with machines.
This practice is also influencing other countries such as the Netherlands, Belgium, and soon to be more. Belgium will be replacing about 550 employees.
A big Dutch bank is replacing 5,800 people with machines, at a cost of $2 billion
This practice might cause the unemployed population to rise especially if this practice works out for the companies and actually saving more money for them. Other companies, not just banking and financial services, will see the success in the robot replacements and will influence them to switch their employees with machines too. Any company that has enough money to invest in these machines to help save them money, they will use this tactic. If this tactic starts trending and every work place (even convenient stores, restaurants, offices, etc.) starts to replace employees with machines, the common man (working man) will struggle to find another job and there will be more competition to get employed. If the unemployed populations rises, there will be less people paying taxes which would start effecting the economy negatively.
On the other hand, sources say "today's apprehension about technology's effect on the labor force is nothing new." There have always been electronics in our daily work places so it's "nothing new" in our society. The Washington Post says that the jobs being replaced by machines will be replaced with OTHER/NEW occupations for humans. Humans will always be a necessity in society. What do you think?
View link below for more details: https://www.washingtonpost.com/posteverything/wp/2016/02/17/yes-the-robots-will-steal-our-jobs-and-thats-fine/?utm_term=.1e139206852b