Roosevelt Corollary And Dollar Diplomacy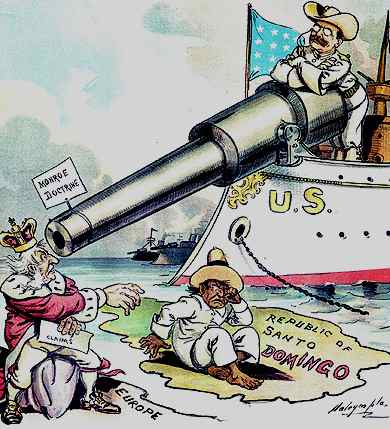 https://history.state.gov/milestones/1899-1913/roosevelt-and-monroe-doctrine
https://history.state.gov/milestones/1899-1913/dollar-diplo
The Roosevelt Corollary and Dollar Diplomacy helped increase U.S. influence in Latin America.
It was an extension to the Monroe Doctrine . It stated the right of the U.S to intervene in the economic affairs of small countries in the South America ,Central America or the Caribbean .
The U.S would intervene on behalf of smaller nations that could not pay off their international debts.  The U.S thought that Europeans would lend small nations money knowing they would not be able to pay back in order to take over them as a form of payment.  The US did not want Europe to interfere in the Western Hemisphere so it made sure to make its influence known.  The US in response said it promised to keep of Europe.  This contributed to the US staying neutral at the beginning of World War.
The Roosevelt Corollary to the Monroe Doctrine and the policy of Dollar Diplomacy showed that the USA was an imperial power at the turn of the century.  It would become a 20th century Superpower after World War II.