The French pilot union activists chanted "Naked, naked" as they singled out two Air France executives and ripped off their suit jackets and shirts, and suddenly the French government found itself involved in a labor dispute between employees and the government subsidized Air France corporation.  The airline  has had to fire a huge amount of its employees because their business is shrinking.
The Air France meeting that was happening on Monday was intended to detail plans to cut 2,900 jobs and losing routes. The airline has not made a profit since 2008 and it has been steadily losing workers in recent years, in part by voluntary departures and vacancies.
The strike began on a  Monday, and has cost Air France an estimated loss of 10-15 million euros daily. The carrier's stock price continued decreasing, closing at $10.31, a loss of about  6.4%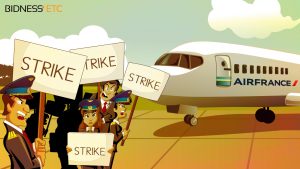 http://www.bidnessetc.com/26068-air-france-pilots-extend-strike-with-no-end-in-sight/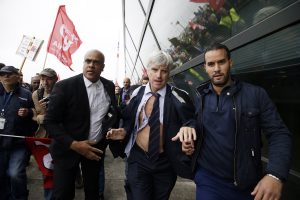 How does government sponsored business in France differ from the United States?  In all businesses that serve the public good the government tends to play a role. France tends to be more socialist as a government.
About two days ago the employees of Air France went really angry, because they lost their jobs  surprisingly fast,and right at this moment all of these workers were left with no job which is really hard for them. Since Air France is government owned the French government is also a target of complaints.
The representatives are trying to cut more jobs because they've lost many routes that the airline used to go to, which means that they have less money now and they can't pay the number of employees who work for them.
Losing money is kind of a known thing for all airlines after what happened in 9/11. People looked for different ways of travel or traveled less.  The perception of air travel is still negative but the airlines are actually more safe and secure now.