Somos Virginia.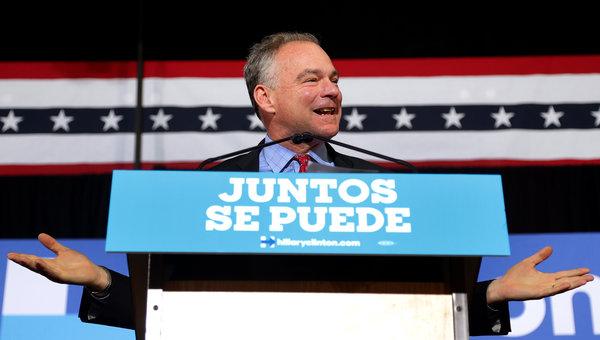 Virginia US Senator Tim Kaine (D) is running for re-election and at this time he's reaching for the Hispanic community. He made a video speaking Spanish, trying to get to Hispanic people, I think he's doing this for two reasons, to prove that he's with them and maybe for the people who doesn't speak English so they can understand what he's saying.
Kaine in New Spanish Language TV Ads: Our Diversity Makes Us Stronger
A new problem has arrived at the border of Mexico.  Currently thousands of migrants are marching together through Mexico to the US border hoping for a better future and leaving behind the threats of murder, poverty, and bad governments of Honduras and Guatemala.
In a recent tweet from President Trump he uses fear propaganda to make this an election day issue.
Sadly, it looks like Mexico's Police and Military are unable to stop the Caravan heading to the Southern Border of the United States. Criminals and unknown Middle Easterners are mixed in. I have alerted Border Patrol and Military that this is a National Emergy. Must change laws!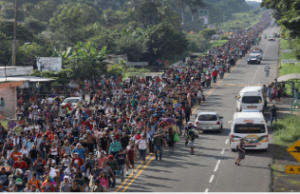 Most of the people from Honduras arrived to the border of Mexico earlier this week and President Trump started to say that he's going to build the wall and to start putting more border defense to keep them away. This might be a good idea for candidate Tim Kaine, because he knows that this country is what it is because of immigrants and with more people coming, the country the better is to become, new jobs, new opportunities.
Here is his Republican opponent Corey Stewart's view:
Illegal Immigration
Rampant, unchecked illegal immigration threatens America's security, jobs, and tax dollars.
In Prince William County, Corey led the nation's toughest crackdown on illegal immigration – resulting in over 7,500 criminal illegal aliens being turned over for deportation.
Corey will fight illegal immigration, amnesty, and ban sanctuary cities as boldly as he did in Prince William County. Every illegal immigrant arrested should be deported – no questions asked. Stewart will work side-by-side with the Trump Administration to make that happen. As U.S. Senator, Corey Stewart will oppose any form of amnesty, and he won't back down to establishment pressure.
View Comments(1)