Sonia Sotomayor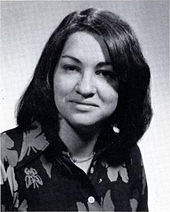 Sonia Sotomayor is an Associate Justice of the   Supreme Court of the United States. she is the third women in the Supreme Court of the United States.  She was born June 25, 1954 in New York City to Puerto Rican-born parents.  Her father died when she was nine.  The 1960s and 1970s when Sonya was growing up as an American woman were times of great change.  She benefited from new opportunities in higher education and she worked hard to use those opportunities to the fullest.
How did she become a Supreme Court Justice?
Sotomayor graduated summa cum laude from Princeton University in 1976 and received her J.D from Yale Law School  in 1979, where she was an editor at the Yale Journal Sotomayor was nominated to the U.S. District Court for the Southern District of New York  by President George H. W. Bush in 1991; confirmation followed in 1992.In May 2009, President Barack Obama nominated Sotomayorto the Supreme Court   
What does she represent as a Latina? How does she give hope to people today?
I think she is a good example to follow. Sonia Sotomayor is in a a good position because of her great effort. As an Hispanic woman she was a minority going against the odds. If she did it all Hispanic people or any kind of races can do it too!
http://www.timeforkids.com/news/justice-no-other/171201