Hate Groups Are Still A Problem In The United States.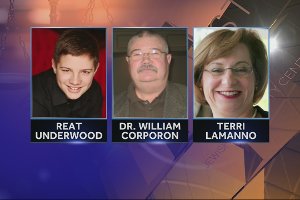 Last April, a 14 year old Oklahoma boy named Reat Griffin Underwood, and his elderly grandfather, Lewis Corporon, were shot and killed at a Jewish Community Center in a Kansas City suburb. The shooter, Frazier Glenn Cross, shot them to death while they were heading to a singing competition. Cross then murdered a woman named Terri LaManno, at the nearby Village Shalom Retirement Community. Cross was known as an Anti-Semite who hated Jewish people but his violent outbursts did not just target Jews, for none of his victims were Jewish. After he was arrested, Cross was heard yelling "Heil Hitler" from the back of the police car.
Cross represented himself during the trial and was found guilty in August. Cross had a history of espousing Anti-Semitic and White-Supremacist views. In September, jurors decided that he deserved the death penalty for the cruel and unusual motives behind the killings. Shortly afterward, Judge Thomas Kelly Ryan read the conviction order, affirming the jury's verdict and sentencing Cross to death by lethal injection. Before his injection, Cross was quoted as saying, "I can't get a fair trial in this court, because you're under rule of the Jews, and you support yourself accordingly."
nsas-jewish-center-gunman-death-sentence/index.html
Many think that White Supremacist groups, like the Ku Klux Klan, or KKK,  either have not existed since the years following the Civil Rights Movement of the 1960's, or that they only exist in small clusters in the South. On the contrary, these groups are still very active and have been growing due to racial tensions and controversies that the United States has been dealing with lately. These groups are racist, dangerous, and violent. They have killed many people throughout history since the Reconstruction Era of the 1870's.  The government should really pay attention to this because they are a terrorist groups. 1st Amendment rights only go as far as doing no harm to others.
To sign a petition against the Ku Klux Klan and name them as a "domestic terrorist organization" to be eradicated as a priority of the Department of Homeland Security click HERE.. 

The White House has also posted this site:

https://petitions.whitehouse.gov/petition/recognize-klu-klux-klan-domestic-terrorist-organization-make-their-eradication-homeland-security-priority

The KKK is a hate group motivated by fear and ignorance.