Steph Curry and The 2015 NBA Playoffs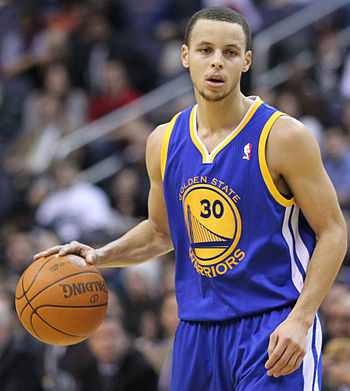 As you may or may not know Stephen Curry is one of the most dynamic and versatile players in the league. This 26 year old superstar is having one of the best seasons of his career. Stephen Curry has broken many Hall Of Famers 3 point shooting records and has won the MVP award this season. Stephen Curry is the starting Point Guard for  the Golden State Warriors.
Stephen Curry is the son of former NBA player Dell Curry. Stephen Curry was born and raised in Akron, Ohio. He  attended College at Davidson University located in Charlotte, North Carolina . Stephen Curry the father of a daughter 2 year old Daughter named Riley is , and  he is also one of the most unique and hardworking players in the league.
Currently Steph Curry has helped his team set a a franchise record of 67 wins. Steph Curry has helped the Golden State Warriors go on a power surge and dominate the Western NBA conference. Curry has set sever franchise and NBA 3 point shooting records and continues to excel on the court. The Golden State Warriors are currently in the 2nd round of the NBA playoffs on a 3-1 winning streak. Steph Curry is a very reliable player and will no doubt help the Golden State Warriors advance to the third round.
I believe that Steph Curry and the Golden State Warriors will win the championship if they can find a way to contain LeBron James and force him to shoot outside jump shots. Forcing LeBron James out of his comfort zone will heavily impact the Cavaliers and help the Warriors get the upper hand. It will be no doubt one of the most exciting NBA series of the century for basketball fans.