The Absolutely True Diary of a Part Time Indian By:Sherman Alexie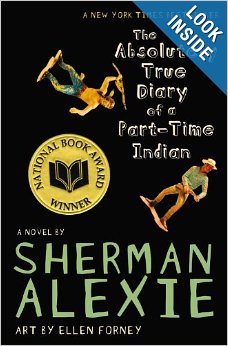 The book "The Absolutely True Diary of a Part-Time Indian" By Sherman Alexie shows a lot about Native American lifestyles on the Reservation. This book shows that trying harder than others will have a big impact on life rather than just trying or being the same as everybody else. Most people don't try to go the extra mile unlike the select few people that actually want to make something out of life; it also shows many of the hardships of Native Americans on the reservation.
Life on the reservation was very harsh for Native Americans. The book shows that Native Americans have lots of harsh things going on growing up like being poor or non-wealthy. Non wealthy families in the reservation leads to a lot of things like having no food in the house starving and also their parents being alcoholics. Having parents as alcoholics' leads to lots of bad situations like gambling, abusive parents, and etc. Arnold the main character shows that you can still make the most of a non-wealthy family by trying hard to make it in life using all of his talents instead of being a regular no life Native American.
Comparing Arnold to the Native Americans on the reservation he actually try's harder than all of them on the reservation. He doesn't have that much support in his life other than his mother and father showing him love to make it through after his sister and grandma pass away. Arnold ends up changing from an old Indian school on the reservation to move to a better white school called Reardon, like 25 miles away from home, having lots of problems going to Reardon and getting back, even including some of the social problems he encounters inside of that school. Arnold ends up adjusting to his new adaptions and joins the basketball team making varsity freshman year, getting all a honor roll for his first year making his parents proud unlike the kids on the reservation. Arnold even makes new friends at his new school adapting and seeing the way of how white people lived.
Indian life style on the reservation is usually same with all the similar families not trying to go out of their way to make a better life. In this book the author showed that Arnold tries way harder than all the other Indian families on the reservation trying to make it somewhere in life with his talents.