The Atomic Bomb
The President Harry S. Truman, made the decision to use the atom bomb to end the war in order to prevent what he predicted would be a much greater loss of life were the United States to invade the Japanese mainland.
On August 6 and 9, 1945, the cities of Hiroshima and Nagasaki were destroyed by the first atomic bombs used in warfare. The first atomic bomb ever to be used in a military operation was dropped on the city of Hiroshima, Japan On August 6, 1945 at 8:16:02 a.m. Hiroshima time. The bomb, affectionately named "Little Boy," exploded 1,900 feet above the courtyard of Shima Hospital, with a force equivalent to 12,500 tons of TNT. By the end of 1945, 140,00 people had died as a direct result of the bombing. Within the following five years, another 60,000 would die of bomb-related causes. http://www.history.co.uk/study-topics/history-of-ww2/atomic-bomb.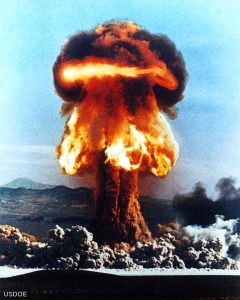 The second bomb, called "Fat Man," exploded over Nagasaki, Japan, at 11:02 a.m. on August 9, 1945. It exploded at 1,650 feet with a force of 22,000 tons of TNT. 70,000 people lost their lives in Nagasaki by the end of 1945 due to the bombing. A total of 140,00 died within the next five years.
I can see that the Atomic bomb had good effects and bad in the same time, positive effect brought the world to end, the negative side was thousands of innocents people died from this bomb, also  others had physical ruined. my point of view is if they didn't drop this bomb, the war might last longer  and more people would have been killed.  As it is World War II is the worst disaster on human life in all human history.