The "dead goat" of Ghana
SEPTEMBER 21, 2015
The protests and striking by workers all began in March 2015. Ghana's President John Dramani Mahama was definitely in hot water. He'd been facing an unprecedented series of strikes and protests over  the government's poor delivery of services and economic difficulties.  Any government should be held responsible for providing for ignoring the basic economic needs of its people.
"I have seen more demonstrations and strikes in my first two years. I don't think it can get worse. It is said that when you kill a goat and you frighten it with a knife, it doesn't fear the knife, because it is dead already."
Is he saying that his government is a dead goat?  In the sense that you can not frighten a dead goat with a knife then yes.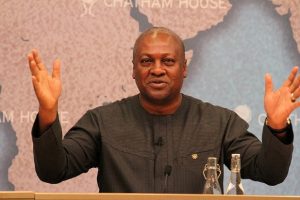 Adopting what he calls a "dead-goat syndrome" the President said he would not be moved by such strategies by workers.
Read more at: https://www.modernghana.com/news/603974/1/i-have-dead-goat-syndrome-mahama-tells-ghanaians.html
http://www.bbc.com/news/business-34426988
When the government fails to deliver what should the people do in response?  When protest does not bring about change  how can the people be agents of change?
If the government fails to deliver what the people want, the the residents of Ghana should do demonstrations to convince the government to do what they want to as long as it is right and wont harm the country.
When the protest doesn't bring change people could react negatively towards him (Mahama) but many are choosing to have a positive revolution instead.
People in Ghana are known for their peaceful behavior, so they don't want to start a revolution against Mahama. Even if they do it wouldn't affect him because he said he is just like a dead goat he wouldn't care anymore. They are starting their own business ventures such as making bikes out of a natural source that they have available and they can get for free. This venture helps these people to come up with their own jobs without making any troubles or arguments with the government.
Ghana has a lot of natural resources.  This has always been a country of natural.  In addition to the oil companies that exploit Ghana the citizens are beginning to harness solar energy.  Solar energy  is one of the natural resources in the world that have been been used in several places but not Ghana. If they do start using the solar energy then they would become rich or mostly better than other poor countries in Africa.