The Girl in the Window
"For the first seven years of her life, Danielle Crockett never saw the sun, felt the wind, or tasted solid food". She was kept in a closet in a Plant City apartment, cloistered in darkness, left in a dirty diaper, fed only with a bottle. 'She was a feral child,' said Carolyn Eastman of Heart Gallery of Tampa Bay. 'We'd never seen a case like that.' "  – Tampa Bay Times
In July, 2005 in Plant City, FL, a police car pulled up outside a rental house to investigate a child abuse claim. Neighbors knew that Michelle, the owner of the house, had two adult male children residing with her, but didn't know that she also had a young girl.
Police officer Mark Holste entered the rundown, filthy, and roach-infested home. There were ripped, yellow-stained curtains from cigarette smoke. Trash blanketed the stained couch. The counters were sticky and grimy.
"It sounded like you were were walking on eggshells. You couldn't take a step without crunching German cockroaches," Holste said.
While Holste looked around, a stout woman demanded to know what was going on. Did she live there? Yes. Were those adult males her children? Yes. Did she have a daughter? Yes…
The detective strode past her down a narrow hall. He turned the handle of a closet door and squinted in the dark.
First, he saw the girl's eyes. They were wide, dark, and unfocused. She was looking through him more than at him. She lay on a torn, moldy mattress on the floor. Her ribs and collarbone were too visible. Her hair was filled with lice. She was naked — except for a swollen diaper.
The girl didn't struggle. "What's your name, honey?" Holste asked. The girl didn't respond.
Her name, her mother had said, was Danielle. She was nearly 7 years old, weighing 46 pounds. At the pediatric intensive care unit, they tried to feed her, but she couldn't chew or swallow solid food. They put her on an IV and let her drink from a bottle.
Her case worker determined that Danielle had never been to school or seen a doctor. She didn't know how to hold a doll, didn't understand peek-a-boo.
One doctor wrote, "Due to the severe neglect, the child will be disabled for the rest of her life."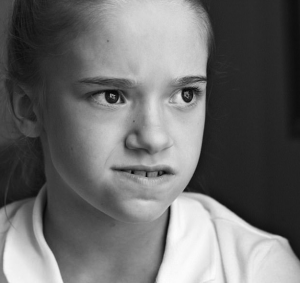 Dr. Kathleen Armstrong, director of a pediatric psychology at the University of South Florida medical school, was the first psychologist to examine Danielle.
Nothing was wrong with the child; she wasn't deaf, had no physical ailments.
The doctors and social workers knew that they couldn't determine what exactly had happened during Danielle's 7 years of living in the filthy and abusive household, but because of Danielle's unresponsive and comatose condition, it led them to believe that she had never been cared for beyond basic sustenance. They believed she'd "never been taken out in the sun, sung to sleep, or even hugged or held" (Tampa Bay Times).
Armstrong called the girl's condition "environmental autism". Danielle had been deprived of interaction for so long, the doctor believed, that she had been withdrawn into herself. Danielle's lack of engagement with others, or with anything, was extraordinary to Armstrong.
"There was no light in her eye, no response or recognition. We saw a little girl who didn't even respond to hugs or affection. Even a child with the most severe autism responds to those," Armstrong said. "Danielle's case was "the most outrageous and heartbreaking" she'd ever witnessed.
The importance of nurturing is indescribable. In the 1960s, psychologist Harry Harlow put groups of infant rhesus monkeys in a room with two artificial mothers. One was made of wire and gave food. the other was made of terrycloth and extended arms. Despite the monkeys were starving, they all climbed into the arms that were clothed.
"In the first five years of life, 85% of the brain is developed," said Armstrong. "Those early relationships, more than anything else, help wire the brain and provide children with the experience to trust, to develop language, to communicate. They need that system to relate to the world."
By Thanksgiving 2006, her case worker was thinking about finding Danielle a permanent home.
Bernie and Diane Lierow, a couple who describe themselves as modest, humble and slow to anger, had everything they wanted, except for a daughter. When Diane found Danielle's face on a flier at a foster care event, she called over Bernie. They both felt like she needed them.
However, the more they asked about Danielle, the less they wanted to know. She was 8, but functioned as a 2-year-old. She wore diapers, couldn't feed herself, couldn't talk. After more than a year in schooling, Danielle still couldn't make eye contact or play with her peers.
"She was everything we didn't want," Bernie said.
But they couldn't forget those aching eyes.
Everyone told them not to do it. Neighbors, co-workers, friends. Everyone said they didn't know what they were getting into.
"So what if Danielle is not everything we hoped for?" Bernie and Diane answered. You can't pre-order your kids. You take what God gives you.
They brought her home on Easter weekend 2007. It was supposed to be a rebirth, of sorts. A baptism into their family.
Bernie described it as a disaster!
Bernie and Diane gave Danielle a doll, and she bit off its hands. They took her to the beach, and she screamed and wouldn't put her feet into the sand. In the home, she tore from room to room, her diaper spewing streams across the carpet.
She couldn't hold a crayon, unwrap a chocolate egg from its wrapper, watch TV or read a book. When they tried to brush her teeth or hair, she kicked and thrashed. She wouldn't lie in a bed, wouldn't go to sleep. She would roll on her back for hours on end.
Bernie and Diane were told to put Danielle into a school with profoundly disabled children, but they wanted to put her in other classes where she'd be more challenged. Bernie and Diane know that Danielle was capable of so much more. They take her to occupational and physical therapy, to church, the mall, and the grocery store. They have her in speech classes and horseback riding lessons.
---
10 Years Later
Danielle just turned 19 in the fall of 2017.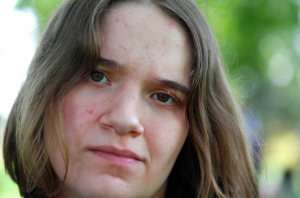 "There she is!" shouted a bearded man who came in carrying cupcakes. "Happy birthday, honey!"
Bernie Lierow set the cupcakes on a wooden table. He stretched his arms toward Danielle as he walked toward her.
In the 10 years Bernie adopted Dani, this was the first time he hadn't been with her on her actual birthday. He hadn't seen her in more than a month. He had taken a Saturday in September to surprise her, driven 90 minutes to her new home.
Slowly, Dani stood. She is 5-foot-10 now, four inches taller than him.
"This is how it's supposed to be. Your kids grows up, and you have to let her go," Bernie says.
"I hope she's happy. It's so hard to tell."
Dani now lives in a group home, in a town 40 minutes southeast of Nashville. Her bedroom is at the back, overlooking a window filled with hay bales. Dani shares it with a woman about her age who also doesn't speak, who spends her days slumped in a wheelchair, watching TV that isn't turned on.
Mostly, Dani still ignores everything around her. Workers at the group home have taught her to toss her laundry in the hamper. She even knows to wait to eat until grace is done.
And what does she love doing most, the girl who spent her first seven years confined to a dark, miserable space? "Just being outside," Shannon Wilson said, who is Danielle's home aide.
"I told myself, this is the way it is. We adopted her. I'll never give up on my baby," Bernie said. "But after about three years, Diane was done. She figured Dani had gone about as far as she was going to get." The two got a divorce in 2015.
Even after a decade, Bernie wonders how much Dani understands, and how to reach her.
The people who have met Dani after her rescue have said that they still think about her. Some have kept in touch with Bernie. Others have simply wondered.
Bernie doesn't feel like a hero. "I just did what I had to do," he said. "And I'm not the only one. So many other parents of disabled children sacrifice their lives."
Bernie said he tries to see Dani every month. He's been her only visitor. He's not nearly as exhausted now. But he misses Dani pulling him around while he feeds the goats, leaning on his shoulder while they watch movies together.
"I took care of her as long as I could, because that was my job. The Lord gave her to me," Bernie said. "But just as I was wishing he would come down here to help me out a bit, he found this place for her. For us."
Source 1: http://www.tampabay.com/projects/girl-in-the-window/
Source 2: http://www.tampabay.com/projects/girl-in-the-window/neglect-feral-child-ten-years-later/