The Gucci story
Do you like fashion?  I started getting interested in fashion when I was just 11 years old. Growing up in Richmond I would see many people with fashionable clothes on and would see the style changing and coming back throughout the years. With my mom being so concerned about how we would represent our family by the clothes we would wear, I learned that I like fashion and it is one of my career goals to work in the fashion industry.  In history class we were asked to think about 6 historical themes, choose one  that we care about and research it. The history theme for this research is the theme of artifacts, one of my favorite trademark products of fashion is the Gucci brand of dresses and purses. These products would not have been possible without the industrial revolution of the later 19th century.
This got me thinking about the importance of cotton in the early American economy. Taking it back to when the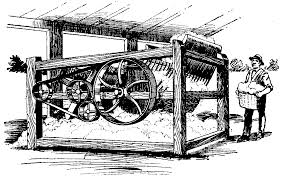 cotton gin was invented by Eli Whitney in 1794. This device was made for removing the seeds from cotton fiber.  It was one of the first American industrial machines that shaped our history as a people.  Because of the cotton gin, both the textile industry in the North and the slave industry in the South grew.  The differences in these regions led to Civil War in the 1860s. 
During the boom time economy of the "roaring" 192os young women first started to get into fashion. The first store open for Italian designer Gucci in Florence, Italy during this time and Americans were regularly traveling on ships back and forth across the Atlantic.  Gucci started making fine leather goods after WWII and in 1951 the first Gucci store opened in New York City. This demonstrates that America was open to the international market and was seeing a growth in wealth after World War II.  The Cold War and the end of World War II actually helped the American economy fully recover from the Great Depression of the 1930s.