The Jazz Age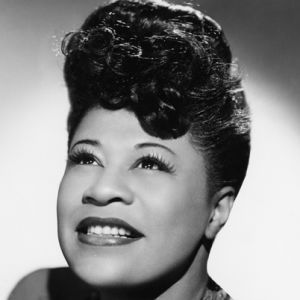 Ella Fitzgerald was the first African American woman to win 14 Grammy's , she also was given many other awards such as the  Kennedy Center for the Performing Arts Medal of Honor Award, National Medal of Art, first Society of Singers Lifetime Achievement Award, named "Ella" in her honor, Presidential Medal of Freedom, and the George and Ira Gershwin Award,UCLA Spring Sing. She was called "The Lady of Song."  One song was so popular that it stuck in every one's head; "A-ticket-a-tasket" helped boost her to fame.
In 1942, Fitzgerald left the amateur performances behind, signed a deal with Decca Records, and started her solo career by redefining the art of scat singing. Fitzgerald made her singing debut at age 17 on November 21, 1934, at the Apollo Theater in Harlem, New York. In the 1920's Jazz became really popular, it is generally credited to African Americans but was modified to be accepted in society.
But not all people accepted this music, they saw it as untalented people.  Some other famous black artists of the time were, Louis Armstrong, Duke Ellington, and Count Basie. The radio allowed many people to hear the jazz sound without physically going to a jazz club. 1920s youth used the influence of jazz to rebel against the traditional culture of previous generations. Jazz opened a new mind set for people, and some saw it as "devils music."
It was not until the 1930s and 1940s that many women jazz singers, such as Bessie Smith and Billie Holiday were recognized as successful artists in the music world. Some women who did not sing were flappers, and ideas like equality and free sexuality were very popular during the time and women seemed to take over during this period.
The video below shows images of racism in the south during this time as Billie Holiday sings about the "strange fruit" that hangs from the trees in the American south.  This is a reference to the lynchings and hatred of the KKK.