The Ride to Freedom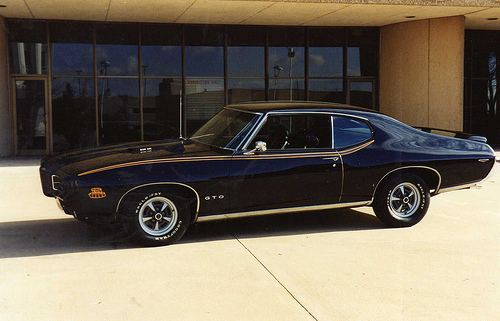 So tell me what do you think about when people ask you about freedom and what it means to you. Do you think about a never ending green pasture, or do you think about a baby blue ocean with a golden sun rise. Well let me tell you about what come to mind mind when people ask me. I think about a 1969 GTO all black with chrome lining and two smooth racing strips riding from front to back. I thinks its a beauty and elegant s all in one. I think this car is the epitome of freedom.
When I think about freedom I think of riding down a long highway in a 1969 GTO leaving all my worries further behind me the more I drive. Imagine driving down a long and smooth highway in your favorite car listening to your favorite song with your friends just having a blast, without a  worry in the world. The road the rules and the world at your finger tips. All the worries of the modern world and its problems are behind you.
See what I'm trying to say is this from the moment when cars were put out for the public people have been hypnotized by them, their look their sounds even the way they feel. We originally had to get from place to place but like all things, we as Americans set it up so they are a states. The bigger the care the flashier it is the better you you but this have changed now we look at the simple beauty of our cars like the 1969 GTO. You can like a Skyline a Thunderbird or M5 BMW but all of this cars are nothing without us and the love we put into them they become an extension of us and who we are. In a way we use or cars to scape all our problems. You can take you car and go for a drive on a late summer day and just enjoy you time driving.
Cars, just like us, have came along way from their beginning. Back then you had your car and a radio now a days you can have whatever you want in it. Anything from a flat screen T.V to a bar, the possibilities are endless. The one thing that started our love for these incredible machine remains and that is the desire for a states. Tell me when your driving and you see a a person driving a Skyline or  Bugatti don't you look at them and think they have it made I know I do and that because your cars presents you and talks for you.
So remember next time you have a nice day and don't have anything to do get in your car and go for a drive. you can go by yourself or with people but no matter what your gonna enjoy the drive cause its not about them its about you and having a good time. Use it as a way to scape any worries or problems you may have, or you might just want to go for a drive I know there's times when I just want to drive. Its a way to let you inner child for in a world of man.
Go for a drive and be FREE!!!