The USS Maine was the first United States Navy ship to be named after the state of Maine. It cost more than $2 million to build the ship as the latest and greatest symbol of American industrial military power.
There was a climax in pre-war tension between the United States and Spain in 1898 but the USS Maine insisted to go on an official observation visit of Cuba. On February 16, 1898, the USS Maine exploded in Havana, Cuba. 268 men were killed during that explosion. It could have been an accident caused by the buildup of gas and heat from the coal fired ship but this was a time period of nationalist propaganda and yellow journalism.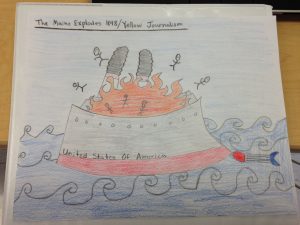 In the American press, headlines said "Destruction of the War Ship Maine Was the Work of an Enemy!" Many Americans assumed the Spanish (Spain) were responsible for the Maine's explosion. Don Enrique Dupuy de Lome, former Spanish ambassador to the U.S, said that there was no chance of Spanish involvement and that the explosion had been an accident. But the Americans thought differently, they would say "Remember the Maine! To hell with Spain!" On April 11, President McKinley asked Congress to send troops to Cuba and two weeks later, Congress declared war resulting in the Spanish-American War.
http://historyofjournalism.onmason.com/2010/11/24/destruction-of-the-war-ship-maine-was-the-work-of-an-enemy/
http://www.americaslibrary.gov/jb/progress/jb_progress_maine_3.html
http://learning.blogs.nytimes.com/2012/02/15/feb-15-1898-u-s-battleship-maine-explodes-in-havana-harbor/?_r=0