Uncle Albert – D-day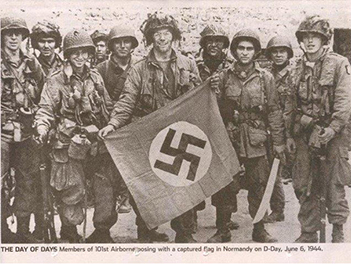 This is a picture of Uncle Albert.  The women in his family identify him as "the handsome Italian holding the sword."
We have a lot of military on that side of the family.  Many in the Army Corp of Engineers.
At the time, Uncle Albert was in an Engineer Company assigned to another relative's 1137th Engineer Combat Group, however in the picture he is standing with the 101st on D-day.  The 101st jumped into Normandy in the darkness early in the morning of June 6th.  How did an Engineer get joined up with them in Normandy on D-day?  The only answer we got was, "War is Hell and very confusing …"
Uncle Albert was killed in action six months later.