US drops 'Mother of all Bombs' on ISIS target in Afghanistan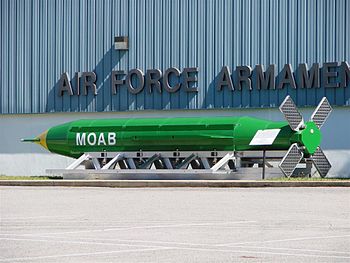 The US has dropped "the mother of all bombs" on ISIS fighters and hideouts in Afghanistan — the largest non-nuclear explosive ever used in wartime, the Pentagon said Thursday.
The GBU-43/B Massive Ordnance Air Blast Bomb, nicknamed MOAB, was dropped at 7 p.m. local time Thursday, military sources told CNN.
A MOAB — nicknamed the mother of all bombs — is a 21,600-pound, GPS-guided munition that is America's most powerful non-nuclear bomb.
The bomb was dropped by an MC-130 aircraft, flown by Air Force Special Operations Command, the network said.
The target was tunnels used by ISIS terrorists in the Achin district of the Nangarhar province.
The military is doing a damage assessment so casualty figures were not immediately clear.
Gen. John Nicholson, commander of US forces in Afghanistan, signed off on the use of the bomb, according to the sources.
http://nypost.com/2017/04/13/us-drops-its-largest-non-nuclear-bomb-ever-in-afghanistan/
This was a really bad idea because this would continue with the war and all the people is scary that this can help to start a 3 world war. Our President is going to get a lot of problems with this decision, some people die because why we don't just stop this and look for a union. What do we want for the future of these countries?  What do we want for us and for new generations?