Walmart apologizes for "Fat Girl Costumes"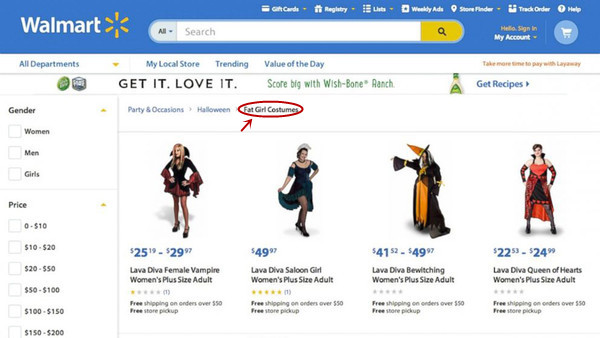 We all love Halloween, and Halloween is coming.  Everyone is trying to get their favorite costumes for the Halloween party.  Walmart's website recently got everyone's attention, because there is a collection of Halloween outfits available called "Fat Girl Costumes" in the Halloween category.  Walmart was calling plus size women Halloween costumes, "fat girl costumes" on it's website.  Customers quickly made it a trending topic among Twitter users.
Walmart apologized, "This never should have been on our site. It is unacceptable, and we apologize. We worked quickly to remove this." Walmart quickly changed the category name to "Women's Plus Size Halloween Costumes," still  all these pictures had already been downloaded and were spreading throughout society media.
Some of the comments about this issue on society media ranged from some people being very angry, others saying truth in advertising is not always the best idea, to others saying Walmart had made an immature mistake to label plus size women as "fat girls."
Although people have freedom of speech, big companies like Walmart should be more aware and respect others instead of stereotyping people. I think it is not right to label specific group of people because people are being harsh towards them for no reason. Nowadays, there are already lots of strict ways to expect what women support to be. Even it is truth, I think people have the freedom to be whatever they want to be and no one should judge them by how they look. Putting people in a narrow group is a serous a problem in our society, which causes bullying, depression, and suicide.
http://www.cnn.com/2014/10/28/living/walmart-costume-controversy/index.html