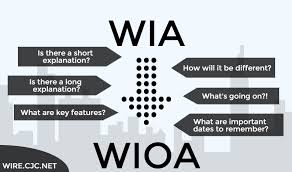 The Workforce Innovation and Opportunity Act Youth Program is designed to help youth with barriers to employment receive resources and services to help them obtain meaningful employment opportunities.  Mountain View High School has hosted  Orientations and Information Session about WIOA (formerly WIA)  for many years.  Recently, the WIA Program has expanded their services and is now referred to as WIOA or Workforce Innovation and Opportunity Act.
"President Barack Obama signed the Workforce Innovation and Opportunity Act (WIOA) into law on July 22, 2014.
WIOA is designed to help job seekers access employment, education, training, and support services to succeed in the labor market and to match employers with the skilled workers they need to compete in the global economy. 
http://www.doleta.gov/WIOA/Overview.cfm
The seal of the United States Department of Labor (Photo credit: Wikipedia)
If you are interested in learning more about this FANTASTIC Opportunity,  visit the Career Center in Room 16 for information on how to apply.  You could earn a $2500.00 stipend for  training if you are eligible!  The Career Center also posted the WIOA monthly calendar of events for your convenience.
Stop in the Career Center soon!!!!!!