Do you want to be a Flight Attendant?
Flight Attendants are members of an aircrew employed by airlines primarily to ensure the safety but also the comfort of passengers. The role of flight attendants is no restricted to customers service, it is part of ensuring that passengers have a pleasant journey. In addition to this, flight attendants are often tasked with customer service duties such as serving meals and drinks, as a secondary responsibility.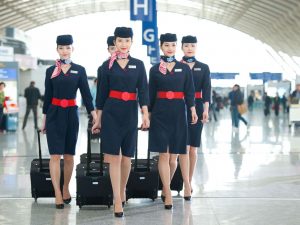 Flight attendants have variable work schedules, including evenings, weekends, and holidays, because airlines operate every day and some offer overnight flights. Attendants work in an aircraft and may be away from home several nights per week.
How to become a flight attendant? Flight attendants typically receive on-the-job training from their employer and must be certified by the Federal Aviation Administration. 
Duties and Responsibilities of flight attendant? Airlines are required by law to provide flight attendants for the safety and security of passengers. The primary job of flight attendants is to make sure everyone follows security regulations. A flight attendant's most important responsibility, is to help passengers in the event of an emergency. This responsibility ranges from dealing with unruly passengers to performing first aid, fighting fires, and directing evacuations. Flight attendants also answer questions about the flight, attend to passengers with special needs, help anyone else needing assistance, and generally assist all passengers as needed. Some duties and Responsibilities are:
Understand emergency procedures.
Known weather conditions.
Make flights comfortable and enjoyable for passengers.
Be aware for specials issues regarding certain passengers.
Prior to takeoff attendants instruct all passengers in the use of emergency equipment, and check to see that all seats beats are fastened and all seats are in the upright.
Potential income: The job of a flight attendant has a certain glamour to it. Flight attendants get to travel extensively and meet people from all walks of life. But the job has its difficulties, too, and turnover can be high. Let's take a look at the average salary of a flight attendant. "The average salary of a flight attendant is $44,860 per year"
Education Requirement: A high school diploma is typically required to become a flight attendant. Some airlines may prefer to hire applicants who have taken some college courses.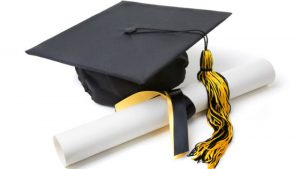 Those who work on international flights may have to be fluent in a foreign language. Some enroll in flight attendant academies.
One of the most important things I recommend before you apply is to do some research and make sure you understand what the job is really like. make sure you know what you're getting into. It's not all "Paris, First Class." In particular, when you first start out, the job is going to involve working holidays and weekends. There will be missed birthdays, recitals, parties and games. You will sometimes be working long days or even all nigh and it's not all going to be serving Champagne and flirting with businessmen. Just remember to be a flight attendant is a lot of responsibility because the life of others passengers is on your hands, You have to make sure if you really want to be a flight attendant.