Southern California Fires: two people burned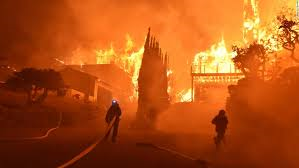 Southern California had a fire break out that spread all throughout California. Many firefighters had lost their lives and were injured trying to put out this monster of a fire. Two new fires started up that week, adding on to the region's misery. 141,000 acres have burned in the six large wildfires in the state. Many people were affected by this fire, resulting in two more people being burned in one new spot, known as the lilac fire, which was about 45 miles north of San Diego. A total of 20 structures were destroyed, many were mobile homes which were in the community right next to the first fire that started. The four day old Thomas fire had burned 115,000 acres and destroyed 439 buildings and damaged 85 others. The fires are really testing the firefighters' stamina and the military personnel, who have been laboring non stop.
There's no way to explain my feelings towards this outbreak. My heart breaks for the ones who have to suffer through losing their homes, family members, pets, and community. Only California residents can only explain what they are feeling and going through. I've seen many videos and pictures of people and their homes that were burned down and all the trees that were dead. I feel bad for the animals who died during this horrific time. I've even donated towards the Southern California site. If I was able to do a lot more for those in need, I would do everything I could. It makes people realize that you shouldn't take things for granted. even things you don't think about every day, like trees and nature.
http://www.cnn.com/2017/12/07/us/ventura-fire-california/index.html