ALI'S SAFETY RULES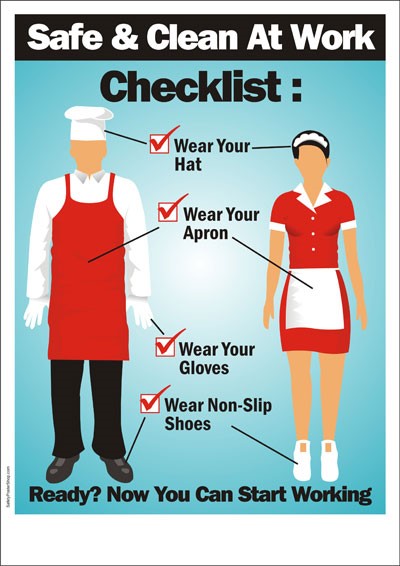 Kitchens should always be clean, and serving areas have to be clean the whole time. All equipment, floor, containers, plates, glasses, should be clean. A lot of people works in the kitchen don't really care about cleaning, that's why having a kitchen manager is really important. You should have a wet towel and a dry towel next to you always, when you drop something you should clean it right the way. If you are busy and don't have time for it, then the employees or the kitchen manager should request that the kitchen needs an extra person to clean in the kitchen. However, cleaning is not always about how clean the food is or how clean the kitchen is, but it's also about how clean your uniform is. Checking the meats temperature every day is really important also.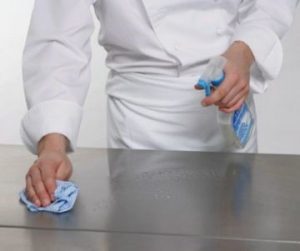 Uniforms should be cleaned and washed after finishing work, I see a lot of kitchen employees hanging out and then come to work with the same uniform. So we don't know what kind of bacteria is on the shirt. Hairnets should always be required because if there is hair in the food or anywhere on the plate, first of all people won't eat and would never come to the restaurant again. Second of all people who cook should always think if they go to a restaurant how would they be worried about if the restaurant is clean and the kitchen people are working in a clean way.
Washing produce is a really important thing to do, a lot of restaurants don't wash produce or anything that needs to be washed. Maybe they are required to wash them, but they sometimes lazy to do so, and some of them will be busy, so they don't wash any produce. That's wrong though, washing things that need to be washed will not take you more than ten minutes. Therefore, making sure your working in a clean way and keeping customers thinking about the restaurant in a positive way is way better and would not take a lot of time.
To work in the kitchen you need a food handler's card, to have the food handler's card you need to take a class and then a test to make sure you know all of the rules in the kitchen. However, having a food manager certification is a little harder, because you'll have a longer class, a bigger test, and harder questions. They will teach you how to manage the kitchen and keep it safe.
Food and Nutrition services, FCPS.